It's Tuesday, It's Tuesday! That means all the new books!
Tuesday's are special days because new books hit the shelves! So that's why we dedicated this day for our Release Day Blitz. It's where we highlight some new book releases that we think you might like! Let's get started!
---
Hardcover: 448 pages
Publisher: Greenwillow Books (May 19, 2015)
 Reality, it turns out, is often not what you perceive it to be—sometimes, there really is someone out to get you. For fans of Silver Linings Playbook and Liar, this thought-provoking debut tells the story of Alex, a high school senior—and the ultimate unreliable narrator—unable to tell the difference between real life and delusion.
Alex fights a daily battle to figure out what is real and what is not. Armed with a take-no-prisoners attitude, her camera, a Magic 8 Ball, and her only ally (her little sister), Alex wages a war against her schizophrenia, determined to stay sane long enough to get into college. She's pretty optimistic about her chances until she runs into Miles. Didn't she imagine him? Before she knows it, Alex is making friends, going to parties, falling in love, and experiencing all the usual rites of passage for teenagers. But Alex is used to being crazy. She's not prepared for normal. Can she trust herself? Can we trust her?
Order the book here!
---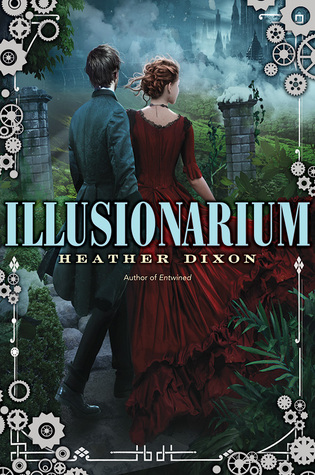 *Hardcover: 368 pages
*Publisher: Greenwillow Books (May 19, 2015)
What if the world holds more dangers—and more wonders—than we have ever known? And what if there is more than one world? From Heather Dixon, author of the acclaimed Entwined, comes a brilliantly conceived adventure that sweeps us from the inner workings of our souls to the far reaches of our imaginations.
Jonathan is perfectly ordinary. But then—as every good adventure begins—the king swoops into port, and Jonathan and his father are enlisted to find the cure to a deadly plague. Jonathan discovers that he's a prodigy at working with a new chemical called fantillium, which creates shared hallucinations—or illusions. And just like that, Jonathan is knocked off his path. Through richly developed parallel worlds, vivid action, a healthy dose of humor, and gorgeous writing, Heather Dixon spins a story that calls to mind The Night Circus and Pixar movies, but is wholly its own.
Order your book here!
---
Hardcover: 384 pages
Publisher: Delacorte Press (May 19, 2015)
Meet Oliver, a prince literally taken from the pages of a fairy tale and transported into the real world. Meet Delilah, the girl who wished Oliver into being. It's a miracle that seems perfect at first. Sure, Oliver doesn't know that you shouldn't try to open your locker with a dagger or that there's no such thing as "the ruler" of the local mall. But he also looks at Delilah as if she's the only girl in the world—the only girl in any world—and Delilah can't help feeling that being with him is a dream come to life.
 
But not every story can have a happy ending. Because the book wants Oliver back. And it will turn both worlds upside down to get him. 
 
Oliver and Delilah will have to decide what—and who—they're willing to risk for love and what it really means for a fairy tale to come true.
Order your book here!
---
Hardcover: 448 pages
Publisher: Del Rey (May 19, 2015)
Agnieszka loves her valley home, her quiet village, the forests and the bright shining river. But the corrupted Wood stands on the border, full of malevolent power, and its shadow lies over her life.
 
Her people rely on the cold, driven wizard known only as the Dragon to keep its powers at bay. But he demands a terrible price for his help: one young woman handed over to serve him for ten years, a fate almost as terrible as falling to the Wood.
 
The next choosing is fast approaching, and Agnieszka is afraid. She knows—everyone knows—that the Dragon will take Kasia: beautiful, graceful, brave Kasia, all the things Agnieszka isn't, and her dearest friend in the world. And there is no way to save her.
 
But Agnieszka fears the wrong things. For when the Dragon comes, it is not Kasia he will choose.
Order your book here!
---
These books sound amazing not to mention the beautiful covers. We must have them all.
What are you looking forward to releasing today?
Love The Twins